MV Queen of the Channel (II)
The Ship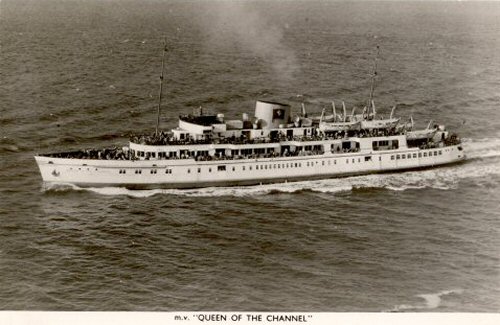 Builders: William Denny & Bros Ltd., Dumbarton 1949

Propulsion type: Twin Screw Motor Vessel.

Owners: New Medway Steam Packet Co Ltd, General Steam Navigation Co Ltd

Service dates: 1949 - 1968

Tonnage: Gross 1472

Comments:

Queen of the Channel was built to replace a ship of the same name, which had been lost assisting in the Dunkirk evacuations. The newcomer was larger than her predecessor and was typical of the Denny built motor ships for the General Steam Navigation Co Ltd and its subsidiary, the New Medway Steam Packet Co. She bore particular similarity to Royal Sovereign (IV), although the latter had a larger forward observation saloon. The new Queen of the Channel sailed from Ramsgate in her first season and took trips to the French coast (non landing) or the Kent coast calling at Dover then crusing to off Dungeness. She could accommodate 1500 passengers in comfort and cruised at around 19 knots. She later took on the London to Clacton service from Tower Pier, calling at Southend en route. Thus she replaced the magnificent paddler Royal Eagle, who was laid up in 1950, as the GSN Co were suffering from excess tonnage and found that there was insufficient traffic to warrant all the ships they had available. After the government relaxed the restrictions on landing in France, Queen of the Channel sailed on "no passport" trips from Ramsgate to Boulogne and Calais in addition to the Clacton run. She continued sailing for the GSN, adding Deal to her ports of call, until they ceased their Thames excursion services at the end of the 1966 season. After a period being laid up in the River Medway, Queen of the Channel was sold in 1968 for use in the Mediterranean and renamed Oia.

My Postcards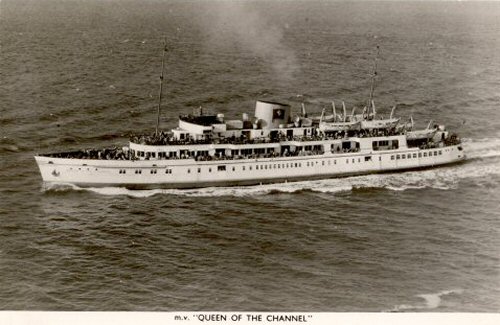 Postally unused
Postcard series: Aerobliques Ltd