HMS Neptune 1933-1941
The Ship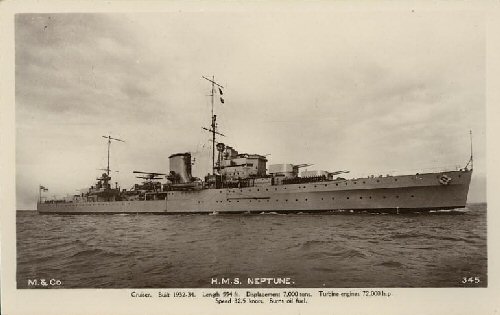 Mined and sunk 19 December 1941
THE CRUISER HMS NEPTUNE - MINED AND SUNK WITH HEAVY LOSS OF LIFE OFF TRIPOLI, 19/12/1941.

HMS Neptune,built by Portsmouth Dockyard, launched 31/1/1933. Sunk by a mine off Tripoli, 9/12/1941.

HMS Neptune (Capt. R.C. O'Conner, R.N.) was sunk in the Central Mediterranean off Tripoli, western Libya by 4 mines laid by Italian cruiser force in June 1941. There was only one survivor from a crew of 767. The survivor was Leading Seaman Norman Walton. The Neptune Association has recently been formed to commemorate the loss of the ship and to remember the men who died.


Sorry, no postcards for this ship.