HMS Skirmisher
The Ship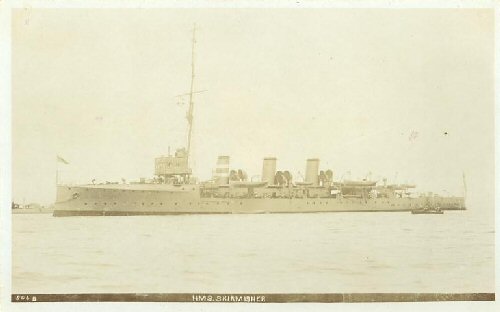 Scrapped 1920
HMS Skirmisher, built by Vickers, launched 7/2/1905. Sold for breaking up at Preston,3/3/1920.

The Scout class of cruiser came from Vickers yard in 1905 and had a ram bow, three funnels, and a turtle back focastle. The four, triple expansion engines developed 17,500 h.p. giving a speed of 25 knots. The class were small fast cruisers referred to as scouts. They arose from the need for a fast ship to perform a scouting role in the North Sea to keep an eye on the increasing activity of the German navy in that area, Coupled to this role was the requirement for a flotilla leader to the smaller seagoing destroyers.

These ships had to have the ability to work with their brood, but still provide for the captain and his staff. Whilst lightly armed compared with a third class cruiser they had a high speed which enabled them to scout in the knowledge that they could outrun any serious oppositon. A total of 15 "Scouts" were completed between 1905 and 1913 all with differences in construction. Skirmisher can be considered typical of the class.


Sorry, no postcards for this ship.