HMS Caradoc
The Ship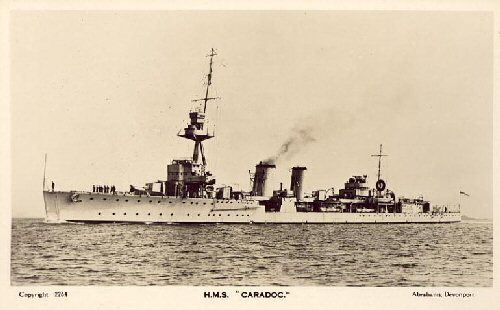 Sold for Scrap 1946
HMS Caradoc, built by Scott and laid down on the 21st february 1916, launched 23rd december 1916 and completed June 1917. HMS Caradoc joined the 6th Light cruiser squadron in June 1917. In August 1917 she got stranded on The fair Isle. In 1918 she was sent to the Baltic and along with HMS Calypso and the destroyers HMS Vendetta, Vortigern and HMS Wakefull captured the Bolshevik Destroyers Avtroil and Spartak of Reval. HMS Caradoc joined the 3rd Light Cruiser squadron in February 1919 until January 1921. She was recommissioned in March 1923 and again February 1926.

During World war two HMS Caradoc served in the America and West Indies fleet from 1939-42 moving to the Eastern fleet from 1942-43. From 1943-44 Caradoc served in the South Atlantic. After the war she was sold and broken up in April 1946.


Sorry, no postcards for this ship.