HMS Patrol
The Ship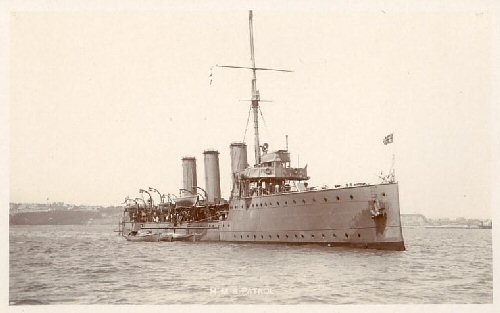 Sold for Scrap 1920
HMS Patrol, built by Cammel Laird,launched 13/10/1904. Sold for breaking up in Holland,21/4/1920.

On 16 December 1914 Hartlepool was attacked and shelled led by the German cruiser Blücher. Once the firing had started HMS Patrol, and HMS Forward together with the Submarine C9 left the harbour. The Blücher opened fire as HMS Patrol dashed out of the harbour and hit her twice, she ran aground, two of her crew were dead and five wounded. Captain Dering ordered the C9 to dive in order to escape the shells even though the bottom was only three fathoms down. The submarine and grounded HMS Patrol blocked HMS Forward.

HMS Patrol,War Service,

9th Destroyer Flotilla Nore/Forth/Tyne.

1915: 7th Destroyer Flotilla Humber.

1918: Irish Sea.

1918: 9th Destroyer Flotilla Nore.

1921: sold for scrap.


Sorry, no postcards for this ship.