HMS Goliath
Battleship
The Ship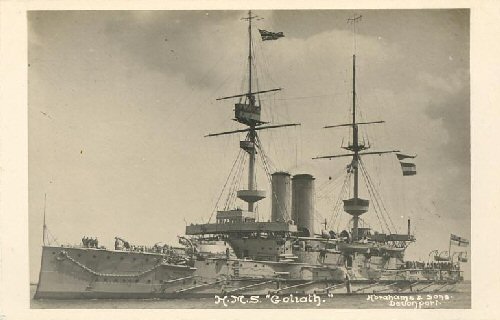 Torpedoed and sunk 13 May 1915
HMS Goliath. Built at Chatham Dockyard and laid down on the 4th January 1897, launched 23rd March 1898 and Completed March 1900, one of the 5 of the class to serve in the China station until returning to the Channel fleet in 1903 and in March 1907 went into refit to receive Fire control and machinery overhaul after which in February 1908 went to Malta. While on route had a major mishap with a propeller shafts fractured which took another 4 months repair. Returned to the 4th fleet at the Nore from 1913 to 1914 served with the 3rd Fleet. At the outbreak of world war one HMS Goliath joined the 8th battle squadron of the Channel fleet, Then went to Loch Ewe to become Guard ship also covered the landings of Marines at Ostend and then went to the east Indies in September 1914.

In November 1914 to part in the operation against the Konigsberg in the Rufiji River.HMS Goliath went to the Dardanelle's in April 1915 and Whilst there supplied gunfire support at Cape Helles. She was damaged by Turkish Gun fire on the 28th April and 2nd May 1915. On the night of the 13th May she was torpedoed by the Turkish torpedo boat Muavenet and sank quickly with the loss of 570 men.

Sorry, no postcards for this ship.
My Photographs