HM Submarine C31
Submarine
The Ship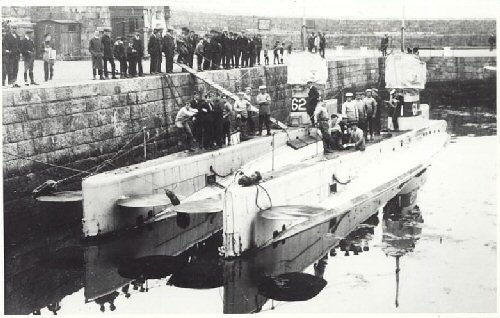 Mined and sunk 4 January 1915
SUBMARINES HM C32 (FAR LEFT) AND HM C31 ALONGSIDE

HM C31, built by Vickers, launched 2/9/1909. Mined and sunk off the Belgium coast 4/1/1915.

These submarines, designed for Coastal duties, were the first major production (38 submarines in all) for the Royal Navy. These submarines were considered for harbour defence and a alternative to minefields. This was the idea of Admiral Fisher. This design was slightly larger than the B class, and a major difference was that it had two periscopes one for a continues look out and one for the commanding officer.

Displacement: 288 tons surfaced and 318 tons submerged. Speed: 13 knots on the surface and 7.5 knots submerged. Range: 1000 nautical miles on the surface at 8.75 knots.

Powered by a Vickers Petrol engine giving 600hp on surface and 300 Hp submerged.

Compliment: 16 Armament: two 18-inch Torpedo Tubes and carried four torpedoes.


Sorry, no postcards for this ship.