HMS Laertes
The Ship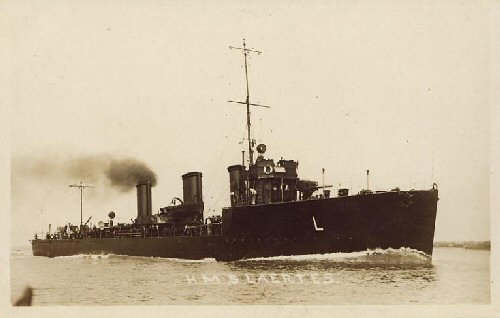 Sold for Scrap 1922
HMS Laertes, built by Swan Hunter, launched 6/6/1913.

Served with the 3rd Destroyer Flotilla on completion and transferred to escort duties after 1917.

H.M.S. Laertes formed part of the Harwich Force of light Cruisers and Destroyers. At about 4.10am on the morning of the 25th, German Navel forces commenced the 20 minute bombardment of Lowestoft, in which 4 civilians were killed. The Harwich Force was dispatched to engage the enemy. This it successfully did, managing to persuade the German Force to break off its engagement of the town. In the following chase the British force suffered hits to two of its cruisers and one of its destroyers, H.M.S. Laertes. She was hit in the boiler room and, but for the brave actions of Stoker 1st Class Ernest John W.Clarke, she would have been lost. It is reported he unhesitatingly went forth to release pressure valves and, in so doing, was very badly scolded. He died from these wounds on the 10th May. London Gazette dated 22nd June 1916 (published after his death) records "The King has further been graciously pleased to approve the award of the Distinguished Service Medal to Stoker 1st Class E. J. W. Clarke". H.M.S. Laertes was sold for breaking in December 1921.


Sorry, no postcards for this ship.