HMS Cornwall
The Ship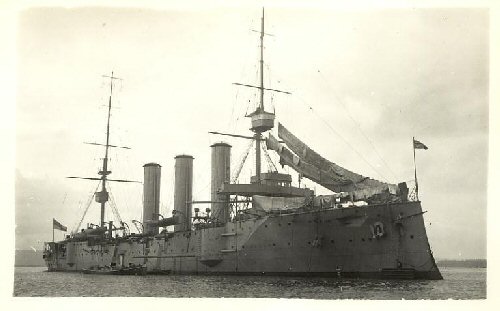 Sold for Scrap 1920
HMS Cornwall, built by Pembroke Dockyard,launched 29/10/1902.

On the outbreak of war in 1914 she was despatched to West Africa to intercept German merchant shipping. She proceeded to the Falklands and on 8 December 1914 engaged German light cruisers, sinking the LEIPZIG.

Returning to West Africa until June 1915 she was sent to support the Gallipoli campaign. The following October she went back to the East Indies and China Stations to protect Allied shipping from surface raiders. Returning to the UK in 1917 she was refitted and escorted convoys between Canada and the UK. She paid off early in 1919 and sold for breaking up at Briton Ferry, 7/7/1920.

Displacement: 9800 tons, Speed: 23 knots. Compliment: 678 Armament: Fourteen 6 inch Quick firing guns, , ten 12 pdr QF guns, Three 3 pdr QF and Two 18-nch torpedo tubes submerged.

Sorry, no postcards for this ship.