HMS Scorpion
The Ship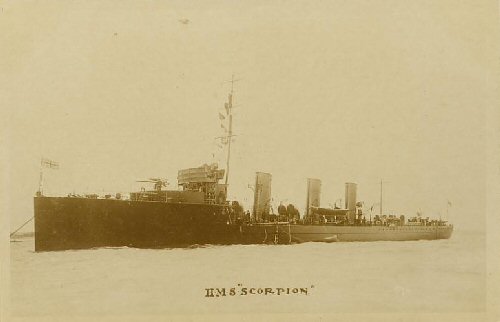 Sold for Scrap 1921
HMS Scorpion built by Fairfield launched 19/2/1910.

Admiral Cunningham (later went on to command HMS HOOD,1937/8) was appointed commanding officer of H.M.S. Scorpion – one of the new Beagle class destroyers-in December 1910. Thus began a long, happy and distinguished association with the ship that was to take him through World War One and bring the first of his DSOs.

Early days in Scorpion included the Spithead naval review in 1911 that stood out in Cunningham's mind as the zenith of British naval power with twenty-six miles of ships including 42 battleships and 68 destroyers. In 1913 the period in home waters came to an end with Scorpion posted to the Mediterranean.

The early part of the war saw the chase of the Goeben and then, in 1915, came the Dardanelles Campaign. HMS Scorpion was always at the forefront of the action. HMS Scorpion's role included, at various times, escorting bombarding ships, covering minesweeping trawlers and, later on, acting as minesweeper herself.

Cunningham was to witness the loss of battleships to mines and the landing and evacuation of troops – all of which left impressions on his mind which were to be recalled during the next war. On 14 March 1916 he was awarded the DSO for his service in the Dardanelles. HMS Scorpion returned home in 1918.

Sold for breaking up 26/10/1921.



Sorry, no postcards for this ship.