HMS Emperor of India 1912-1931
The Ship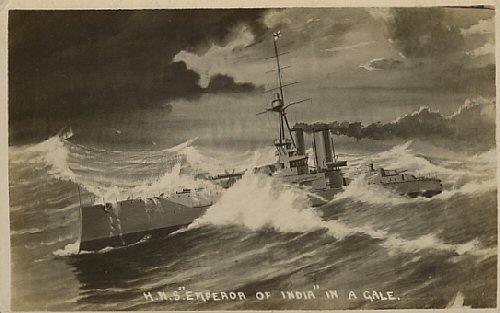 Sunk as Target 1931
HMS Emperor of India was an Iron Duke-class battleship of the British Royal Navy. She was originally to have been named Delhi but was renamed just a month before launching after King George V, who was also Emperor of India.

Emperor of India was laid down on 31 May 1912 at Barrow-in-Furness by Vickers. She was launched on 27 November 1913 and commissioned on 10 November 1914.

Upon commissioning, Emperor of India joined the 1st Battle Squadron of The Grand Fleet, based at Scapa Flow. Emperor of India later joined the 4th Battle Squadron and and was flagship of Rear-Admiral A. L. Duff. King George V visited Emperor of India while inspecting the Fleet at Scape in July 1915.

She was in refit at Invergordon at the time of The Battle of Jutland in 1916. During Jutland, Emperor of India was replaced as flagship of Admiral Duff by Superb. In 1917, Emperor of India replaced her sister-ship Marlborough as Second Flagship of the 1st Battle Squadron.

Emperor of India was present at the surrender of the German High Seas Fleet in November 1918. She survived the cuts to the Royal Navy in the post-WWI climate and joined the Mediterranean Fleet in 1919.

She was decommissioned in 1929 and was sunk as a target ship in 1931. She was raised the following year and sold for scrap.


My Postcards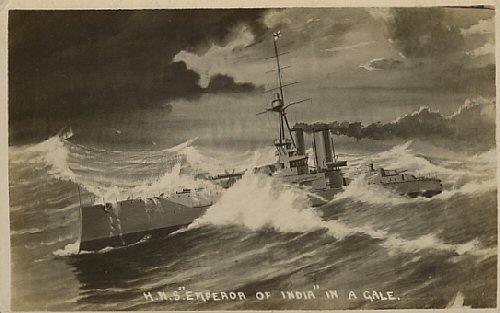 Not postally used.
Postcard series: C Cozens

My Photographs