HMS Diamond
The Ship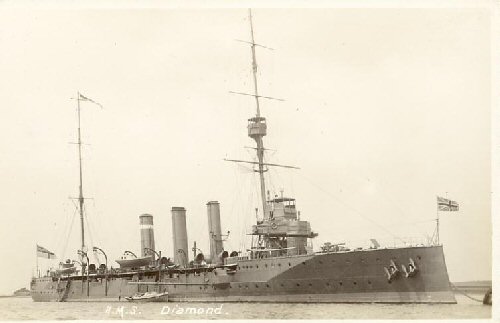 Sold for Scrap 9 May 1921
HMS Diamond was built by Laird. Launched 6/1/1904 and sold for breaking up at Grays on 9/5/1921.

HMS Diamond,during 1911 and 1912 served with the 3rd Flotilla as Senior officers ship. In 1914 joined the 5th Battle squadron and in 1915 joined the newly reformed 5th battle squadron of the Grand Fleet. In 1918 she transferred to the Mediterranean to be used as a CMB carrier carrying six CMB's in davits. After the war she was sold as scrap in May 1921

HMS Diamond, War Service
1914 Attached to the 5th Battle Squadron Channel.
1915 Attached to the 5th Battle Squadron Grand Fleet.
1918 Mediterranean,CMB Carrier.
1921 Sold for scrap.


Sorry, no postcards for this ship.