HMS Vanquisher
The Ship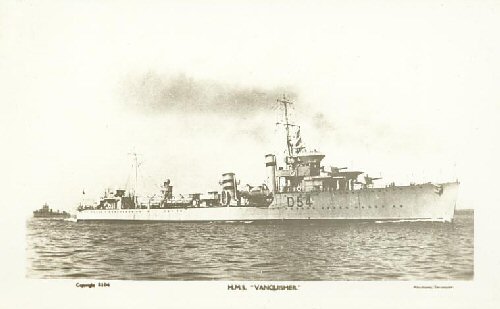 Sold for Scrap 1 January 1948
HMS Vanquisher was built by John Brown and launched 18/8/1917. Reconstruction to Long Range Escort finished in April 1943. Arrived at Charlestown for breaking up in 1948.

28th May 1940.
HMS Vanquisher assists in evacuation of British and other forces from Dunkirk.

19 May, 1941
HMS Vanquisher (Lt. F.D. Cole) picks up 2 survivors from the British merchant Empire Ridge that was torpedoed and sunk by the German submarine U-96 90 miles west of Bloody Foreland in position 55.08N, 10.40W.

10 Apr, 1945
The German submarine U-878 was sunk in the Bay of Biscay west of St Nazaire, France in position 47.35N, 10.33W, by depth charges from the British destroyer HMS Vanquisher and the British corvette HMS Tintagel Castle.

24th May 1945
Whilst escorting convoy WP.526 off the South East Coast of England, HMS Vanquisher breaks off to attack German 9th MTB Flotilla laying mines off Brighton, and hits S112.


Sorry, no postcards for this ship.