Edinburgh Castle 1910-1945
Passenger Liner
The Ship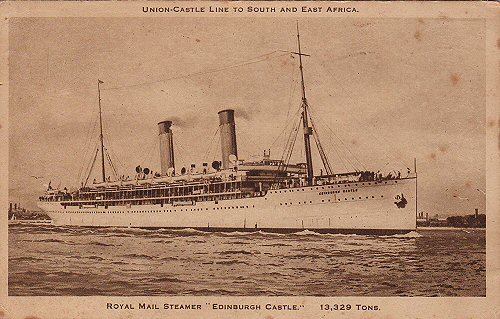 Scuttled 1945

The Edinburgh Castle was built in 1910 by Harland & Wolff at Belfast. Sister of the Balmoral Castle, she was the last of a group of almost identical ships.

On 14th August 1914 she sailed from Cape Town with mail and government-only passengers to Gibraltar, where she embarked troops before being escorted to England by HMS Minerva. She was then taken over as an auxiliary cruiser for the South Atlantic patrol and in January 1915 sailed from Devonport for South Africa with White Starís Ceramic to hunt for the German ships Karlsruhe and Kronprinz Wilhelm.

Edinburgh Castle resumed commercial operations in 1919 after a refit and during that year carried General Smuts back to South Africa. She was withdrawn from service in 1938 and laid up at Netley until she was bought by the Admiralty for use as an accommodation ship in Freetown, Sierra Leone for Naval personnel and survivors of sunken ships.

In 1945, as towing back to England would not be cost effective, she was towed 60 miles out to sea and sunk by gunfire and depth charges.

My Postcards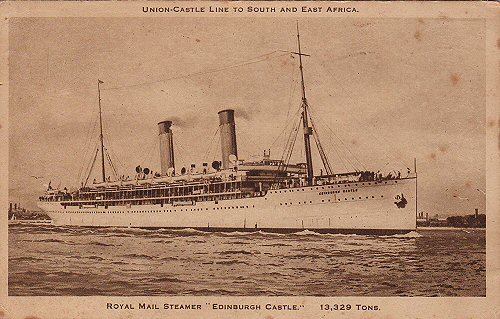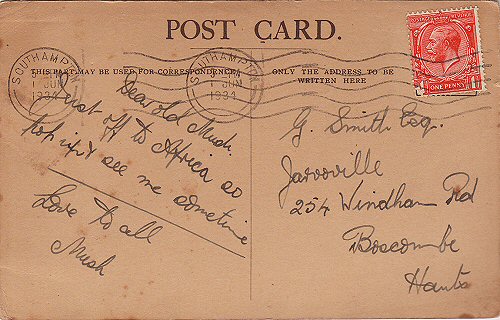 Postally used - dated 1 Jun 1934.