HMS Canada
Battleship
The Ship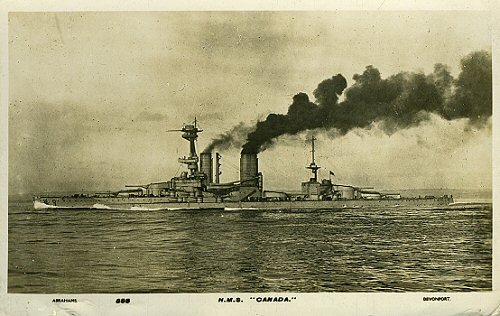 Sold 1921
HMS Canada was a battleship, sometimes identified as a member of the Iron Duke class originally ordered by the government of Chile as Valparaiso. Before launching, the ship's name was changed in honour of Juan Josť Latorre Benavente. Incomplete at the outbreak of the First World War, she was purchased by the British government in September 1914, completed and re-named HMS Canada. After the war she was refitted and sold to Chile and served from 1921 as the Almirante Latorre.

HMS Canada was part of the Grand Fleet's Fourth Battle Squadron and took part in the Battle of Jutland in 1916. Thereafter she was in the First Battle Squadron.


Sorry, no postcards for this ship.