HMS Pioneer
Light Cruiser
The Ship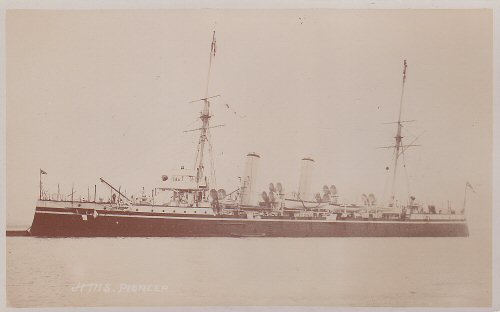 Scuttled 18 February 1931
HMS Pioneer, later HMAS Pioneer was a Pelorus class light cruiser of some 2,000 tons displacement built at the end of the 19th Century. She was laid down for the Royal Navy at HM Dockyard Chatham, Kent in December 1897. She was launched 28 June 1899 by a Miss Andoe, and completed in 1900.

Prior to the First World War she was transferred to the Royal Australian Navy (RAN) on 28 November 1912 and commissioned in the RAN on 1 March 1913. She saw action against the German cruiser Königsberg off the east coast of Africa. After bombarding Dar-es-Salaam on 13 June 1916 she was moved to the reserve. Pioneer was paid off on 7 November 1916 and served as an accommodation vessel at Garden Island in Sydney until sold in 1924. She was scuttled off Sydney Heads on 18 February 1931.

Sorry, no postcards for this ship.