Manufacturer: Photochrom Co Ltd
Series: On Active Service
Postcard number: 45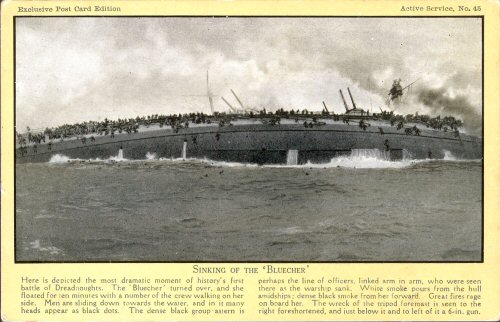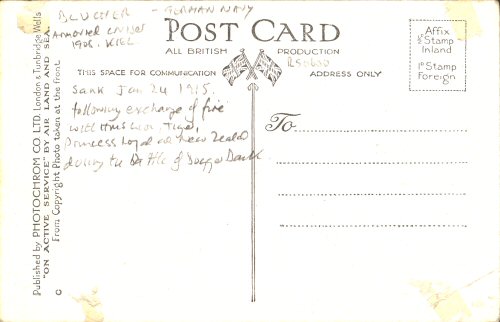 Not postally used but has the following notes written on the reverse:

Blucher - German Navy
Armoured Cruiser
1908 Kiel
Sank Jan 1915 following exchange of fire with HMS Lion, Tiger, Pricess Royal and New Zealand dring the Battle of Dogger Bank.

Card reads:
Sinking of the 'Bluecher' (Blucher)
Here is depicted the most dramatic moment of history's first battle of Dreadnoughts. The 'Bluecher' turned over, and she floated for ten minutes with a number of the crew walking on her side. Men are sliding down towards the water, and in it many heads appear as black dots. The dense black group astern is perhaps the line of officers, linked arm in arm, who were seen there as the warship sank. White smoke pours from the hull amidships; dense black smoke from her forward. Great fires rage on board her. The wreck of the tripod foremast is seen to the right foreshortened, and just below and to the left of it a 6-in gun.

Follow this link for Postcard Collection